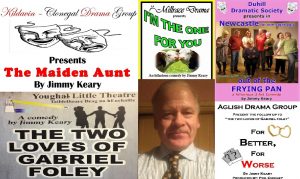 Biography:
1958: Born in Corrydonlon, Rathowen, Co. Westmeath
1970: I began writing detective/adventure stories for my own amusement. Over the following six and a half years, I wrote over 100 stories.
1977: Made my acting debut in a production of 'Drama At Inish' at St. Patrick's College, Maynooth
1980: Joined Rathowen Amateur Dramatic Society (RADS)
1981: Had my first comedy sketch,'Father of the Bride' performed in a variety concert in Rathowen.
1985-86: Wrote sketches and one-liners for the RTE variety series, 'Davis At Large'
1997: First one-act play, 'Looking For Love' performed in the Bog Lane Theatre, Ballymahon
2000: First three-act play 'The Maiden Aunt' premiered in Killala, Co. Mayo
2000-2018: I have written 21 three-act comedies.
2018:'Mammy's Boy' was staged in Chicago by the Gaelic Park Players and was also staged at the Acting Irish International Theatre Festival in Calgary, Canada. My play 'A Fish Out Of Water' had its premiere in Mallow, Co. Cork by On Q Productions in the following November.
In 2019 there were 38 productions of my plays around the country.
I have just completed the first draft of a new three-act comedy – my 23rd – which is called 'Finders Keepers'.
Welcome to my website. Feel free to contact me if you want to know any more.